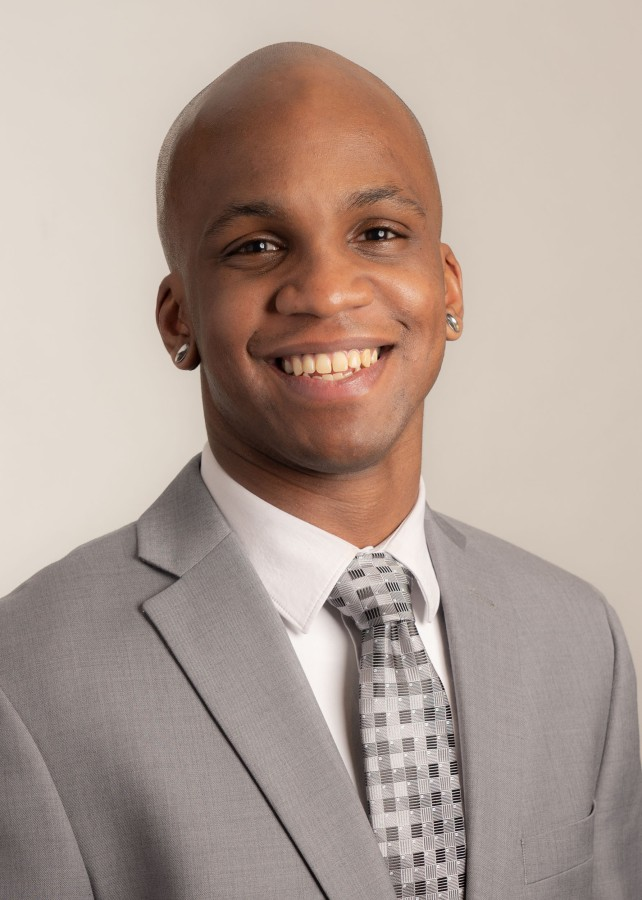 The Possibilities of Free Form Architectural Wire Mesh
There are several elements that architects must consider when fabricating a design in their minds. To ensure their vision becomes a reality, they must pick design materials capable of accurately portraying what they envisioned.
Stainless steel architectural wire mesh, for example, provides customizable characteristics that can be formed into virtually any shape or design freely while maintaining the level of durability needed to stand the test of time.
So, how exactly do free-form mesh systems work?
Having been prominent manufactures of architectural wire mesh for over 20 years, W.S. Tyler strives to ensure you make the most out of the beneficial qualities wire mesh has to offer
That's why this article will cover:
What architectural mesh is

What the term free form mesh means

How free form mesh systems can be applied

How the wire specifications of the mesh affect the system's performance

How much a free form system costs



What Is Architectural Wire Mesh?
Architectural mesh is best defined as a sheet of individual metallic wire that has undergone a centuries-old weaving technique that interlocks them together, forming specific patterns and mesh specifications. Because mesh start as individual wires, parameters such as mesh type, percentage of open area, panel size, and wire diameter are fully customizable and determined before the weaving process.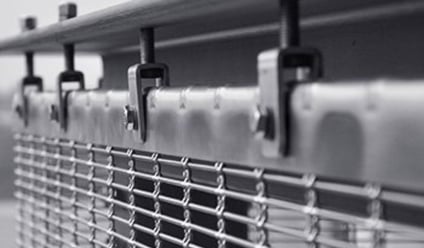 To deliver maximum durability and longevity, architectural mesh is typically constructed from stainless steel. That said, mesh can be easily painted or digitally printed to resemble another alloy or convey a particular design.
What Is Free Formed Mesh?
In terms of architectural mesh, free form refers to the bending, twisting, or turning of mesh to create a unique design or shape. Unlike standard façade, ceiling, and wall applications that use flat mesh panels, free-formed mesh systems are typically used to create decorative pieces, unlike any other piece.
What Are the Possibilities of Free Form Architectural Mesh?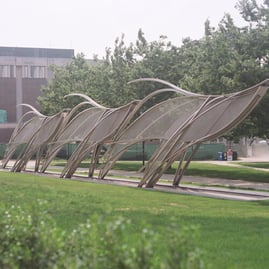 Once architectural mesh reaches a specific size, it becomes fairly pliable and flexible. Unfortunately, this prevents the mesh from holding a desired shape or form in most cases.
For instance, let's say you had a piece of mesh that was a 3-foot by 4-foot piece. To form it correctly, the mesh has to be physically bent, altering the natural profile of the wires, or have a specialized substructure system that will lock/hold the mesh in the desired form.
Having said that, some mesh profiles are more easily manipulated and can better hold a specific form. However, the fact still remains that smaller pieces of mesh will need to be used to accurately portray a shape without the need for additional framework.
Now, when it comes to cutting mesh into specific shapes, architectural mesh can be cut into virtually any shape your design calls for. To that end, something that you must take into consideration are the cross-sections of the mesh.
If your design requires the mesh to be cut across a wire intersection, the mesh must be spot welded at that cross-section. This prevents the mesh from unraveling and losing its rigid characteristics.
To get a better idea of the possibilities of free-form mesh, review our gallery of past free-form projects.
How Does Wire Specification Affect Free Form Applications?
For the most part, the wire specifications that you use to construct your mesh system won't play a significant role in the effectiveness of portraying a design in a free-form application. The only factor of the wire specification that genuinely affects a free-form design is the wire diameter.
If your design calls for the mesh to hold a specific shape over a larger span, you will want to use a more robust wire profile. On the other hand, if you want to portray a design with a heightened sense of flow and movement, a finer wire diameter should be used.
How Much Does a Free Form Mesh System Cost?
When it comes to the cost of a free form system, the overall cost of the mesh remains the same as any other applications. This means you can expect to pay $20-$25 per square foot for wire mesh and $30-$35 per square foot for cable mesh.
The substructure of the system, however, is what will drive the overall cost of the system. This particularly true if the mesh is placed in a frame, and the frame must be manipulated to facilitate your design.
To reduce these expenses, it is recommended that your structural engineers work with a local fabricator to design the substructure yourself. The mesh will assist in this process, providing insight into how the mesh will behave, how much it weighs, and the amount of tension that the system will create.
Experience Architectural Mesh First-Hand With Mesh Samples
Architectural mesh is a series of metallic wires that are woven together, forming mesh panels that help facilitate a wide range of architectural design processes. As all aspects of the mesh are customizable and calculated before being woven, architectural mesh is often applied as free-form pieces that can truly portray any design idea, making your imagination your only limitation.
That being said, the next to determining if architectural mesh is to work with a mesh supplier and request mesh samples. This will allow you to physically see the aesthetic qualities various architectural mesh profiles can deliver to your design.
Having helped customers navigate the world of architectural mesh for over 20 years, W.S. Tyler is here to help you better understand if architectural mesh is suitable for your needs.
For more information regarding architectural mesh samples, read the article: What Is an Architectural Mesh Sample? (Definition, Limitations, & Cost).
About Ronnie Brown
Ronnie is the Content Writer for W.S. Tyler and has four years of experience as a professional writer. He strives to expand his knowledge on all things particle analysis and woven wire mesh to leverage his exceptional writing and graphic design skills, creating a one-of-a-kind experience for customers.